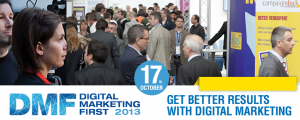 Digital Marketing Talents in Belgium
ENGLISH
What is Digital Marketing First?
The Digital Marketing First is the largest gathering of online marketing professionals and digital to be held in Belgium. Around 5000 participants gather every year in the capital of Europe to share marketing techniques, present their accounts and analyze cases of successes and challenges that have been conducted over the last year. No doubt it is a very interesting trade fair for professionals purer and "academic" but is also an excellent setting for communication professionals or other disciplines.
ESPAÑOL
¿Qué es el Digital Marketing First?
El Digital Marketing First es el mayor evento de profesionales del Marketing online y digital que se celebra en Bélgica. Alrededor de 5000 asistentes se dan cita cada año en la capital de Europa para compartir técnicas de mercadotecnia, exponer sus  cuentas de resultados y analizar los casos de éxitos y los retos a los que han sido conducidos durante el último año. Sin duda se trata de una feria muy interesante para profesionales del sector más puro y "académico" aunque también es un excelente escenario para profesionales de la comunicación u otras disciplinas.